First Phase of New Construction on a 10-Acre Waterfront Site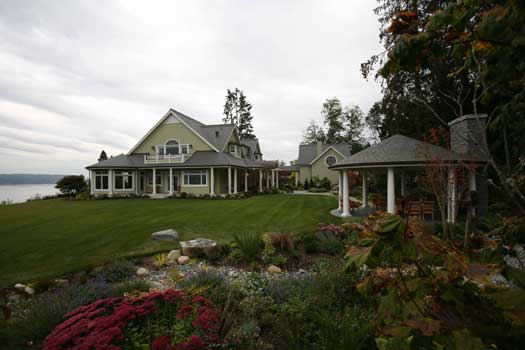 This project is the first of several phases planned for this site, a 10-acre peninsula jutting out into Saratoga Passage, on the east side of Whidbey Island. The client is a well known mystery writer who relocated to the Puget Sound area and selected the forested site for its seclusion and beautiful views of the water, Mt. Baker, and the North Cascades.
Built so far is a two-story home connected by a breezeway to a pavilion with a garage, workshop, and office suite. Other amenities include an enclosed garden, a potting shed, a gazebo with fireplace and BBQ, and a forested park with walking trail.
Future phases will include a guest house, a large workshop styled as a barn, and a tram to the property's private beach at the foot of the bluff.
What the Client Asked For
Adapt to a Northwest setting a traditional Hamptons-style shingled country house with formal elements such as a colonnaded screened verandah and turret.
Position the house for privacy and to take full advantage of the views. Open as much window space as possible.
Within the house, create an open, relaxed space for entertaining, while maintaining the privacy of the intimate living quarters.
Display a personal art collection.
Build an office suite separate from the living quarters, yet conveniently accessible, to accommodate an employee and business visits without sacrificing privacy.
Create an intimate garden separate from other landscaping and the forested areas.
Solutions
The design reinterprets the original Hamptons concept with an open colonnaded porch instead of a screened verandah, as insects are not an issue in this region. The turret was transformed into a view rotunda, an 18-foot diameter extension of the living room with 270-degree vistas. It anchors the house on the site's best view point, near the edge of the bluff.
A 900-foot gravel driveway winds from a remote-controlled gate at the county road through a groomed forest park to provide privacy for the more developed part of the site. In addition, berms were raised for privacy around the landward side of the structures and landscaped with drought-tolerant plants.
The main level of the two-story home has an open floor plan for the living, dining, and kitchen areas, with large view windows. Guests can move casually between spaces, which are defined with ceiling treatments, such as moldings and coffers, and portal-like transitions that do not impede circulation or sightlines. Other rooms on the main level include a mudroom, conservatory, and library.
The private living quarters are upstairs, accessible through a discreet stairway. This solution dovetailed with another modification of the traditional design. Instead of a formal entry with grand staircase, the entry is an art gallery. This approach allowed the creation of interior walls for display, while maintaining an open plan for the main spaces and using the exterior walls for windows.
The upper level includes a master suite (entry, bedroom, sitting room, bath, linen closets and dressing room), an exercise room and bath, craft room, and morning room.
A separate pavilion houses car garages, gas boilers for radiant floor heating, a shop, a secondary garage for lawn equipment, and an upstairs office suite with a main office, an assistant's office, sitting room, 3/4 bath, and kitchenette. A breezeway offers convenient, protected access from one building to the other.
Behind the house is a fully enclosed English-style garden, with two main gates, a potting shed, and a stone-lined basin. All plantings are drought tolerant.
The entire project features custom details, including, for example, doric columns and post-and-beam treatments, ironwood flooring on the porch with corner weaved patterns, ceiling-height cherry bookcases in the library, an English clay kitchen sink, and a padded dog nook in the kitchen. Everywhere you turn, there is something special to see or touch. All electronics (video and audio systems, computers, etc.) are concealed, many of them in a dedicated utility basement.