A Series of Remodels and Expansions in a Waterfront Home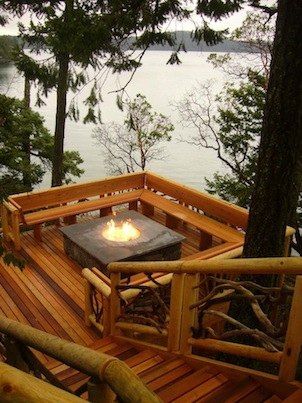 What the Client Asked For
Add a second-story guest suite and expand the existing deck with an intimate seating area, while maintaining and complementing the house's rustic lodge character.
These projects are the latest in a series of remodels and expansions designed by CASA for this island residence over the last 12 years.
Solutions
Replaced an existing bath on the main level, added a stairway, and created a new upper level suite consisting of a guest bedroom, sitting room, dressing room, bathroom, and its own deck overlooking the cove and grounds.
Expanded the structure of the existing deck with stairs down to a new platform featuring a seating area organized around a propane-fueled fire pit.
Added deck storage under a portion of the existing deck for deck furniture.
The design of both the upper level and the new seating platform blend into the existing house design seamlessly, continuing the lodge style of peeled poles with copper flashing.
The deck addition uses the same style railing as the existing deck. It has an Adirondack look that incorporates parts of fallen tree branches collected on site. The earlier deck structure was allowed to grey naturally, and the new deck will age the same way.