Creation of a New Main Entrance, Dining Room, and Wine Cellar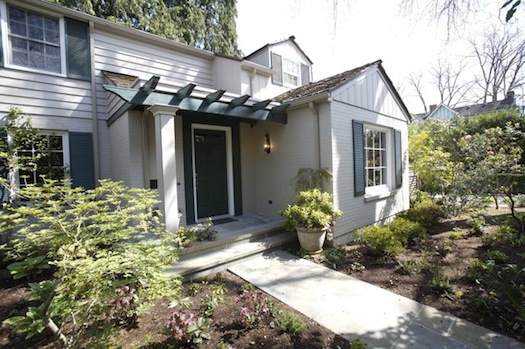 What the Client Asked For
Create a well defined and weather-protected main entrance and new entry vestibule with functional storage space and mail reception.
Expand the existing dining room to accommodate comfortably 14 to 16 people sitting at one table.
Add a temperature-controlled wine cellar to store and display an extensive collection.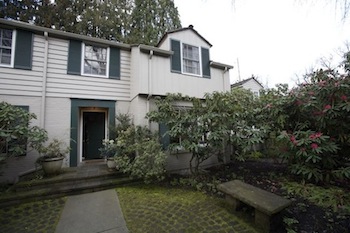 Solutions
Extended the existing dining room 10 feet from the existing facade of the house and added a new entry vestibule alongside it.
Designed recessed spaces on either side of the dining room, with built-in sideboard cabinets, to maximize the room surface, provide the storage and counters necessary for large dining events, and free up kitchen storage. Counters are illuminated with low-voltage lighting. The west sideboard is tucked into an art display niche. The east unit fits into a bay window. This placement allows both the room and table to be wider, so dining guests are not cramped either accessing the table or sitting. To keep the room bright and open, we added new windows — including the bay window — in a style that matched the character of the house.
Outfitted the new entry vestibule with a large, double-door coat closet, an art wall with dedicated low-voltage display lights, and a mail slot with easy access that catches mail in a tray rather than letting it fall to the floor.
Blended the new exterior elements into the existing house so you would not suspect it had been remodeled. To do this we removed an upper floor window in a closet and modified the dormer window directly above the new dining-room roof. We also matched the existing siding with specifically milled boards and extended the heavy-shingle style roof.
Designed a wine cellar to fit in new basement space created under the dining room and vestibule expansion. The previous wine room was a closet with poor air ventilation, limited, hard-to-access storage, and no display amenities. The new cellar features wine racks for up to 900 bottles, with storage for additional cases along the walls under display shelving. It is specifically built to store wine safely, with insulation, a vapor barrier, and a dedicated air-temperature control system. Lighting is from low-voltage tracks.