Replacement of a Back Porch with a Conservatory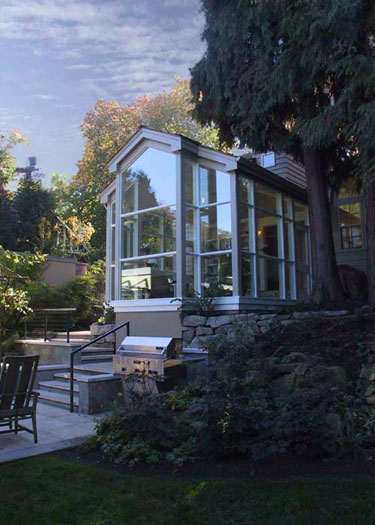 What the Client Asked For
Replace a 10-year-old back porch and partial glass roof (originally designed by CASA; see photo below) with a larger, enclosed space to serve as an extension of the existing family room and kitchen and a transition to the back garden.
Create a luminous space evoking the simplicity of a screened porch or verandah, but enclosed in glass to be suitable for use year-round in the Seattle climate.
Modify the existing family room and back entrance as needed to harmonize with the new enclosed porch.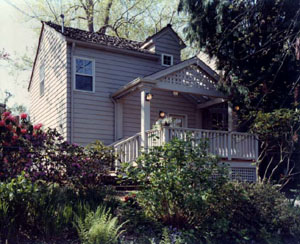 Solutions
Increased the footprint of the porch area.
Designed a cathedral ceiling, to keep the space as airy and luminous as possible and emphasize its connection with the outdoors.
Specified custom glazing units stopped directly into the structural posts. By eliminating window frames, this lightened the overall effect, much like the use of screening in a verandah. This simplicity required impeccable craftsmanship and high quality materials to ensure precise fit.
Widened the existing back door into a five-foot open passageway, creating a more direct connection with the existing family room and enhancing the porch's function as a transition space.
Applied siding elements inside the covered porch, to maintain its connection with the exterior of the house.
Harmonized the interior of the covered porch with the existing family room — and achieved a seamless transition — through the comprehensive selection and placement of interior finishes and colors, fixtures, rugs, furniture, cushions, and other accessories.
Installed a heated floor to avoid unsightly ductwork yet maintain a dry, comfortable space during Seattle's damp winters.
Added a rockery, planting areas, and a new pathway to integrate the covered porch with the garden and enhance circulation.