Expansion and Upgrade of Three-Level Builder Home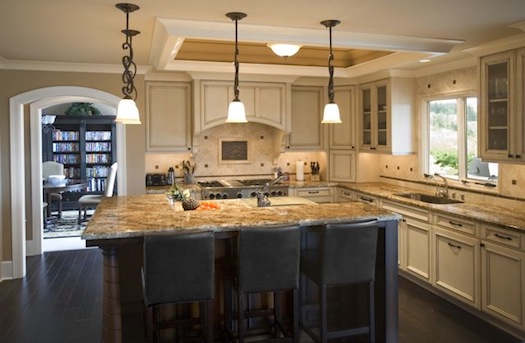 This three-level Bellevue residence — a builder home erected about 10 years ago — underwent a comprehensive expansion and upgrade.
What the Client Asked For
The clients liked the location but wanted a larger home, better adapted to their lifestyle. The structure and amenities were already starting to show signs of wear and tear. Specifically, the clients asked for:
A living space that was less generic and more functional and intimate, better suited to their daily routine, with better articulated spaces and storage placed and organized to prevent clutter.
A larger, more functional kitchen.
A covered deck with protection from the sun and rain.
An exercise area and home theater.
New appliances, cabinetry, and finishes throughout.
Solutions
To provide more floor space on the main and lower levels, 3.5 feet were added along the south side of the house and a covered deck was built out from the main level. The entire structure was reestablished and cantilevered off the existing foundation, using glue-laminated beams. The roofline was also reworked to make the expansion appear seamless, as though the house had originally been built that way.
On the main level, the enlarged footprint allowed the complete reconfiguration of the kitchen and family dining and living areas, with coordinated remodeling of the existing entry and formal areas.
In the expanded daylight basement on the lower level, there was enough space under the new deck for an exercise area and home theater. Existing spaces, including a rec room, guest room, and kitchenette, were adapted and upgraded. CASA handled space pre-design for the dedicated home theater. The actual theater design and installation were contracted out to a specialist.
There was also remodeling in the upper level, primarily to repurpose an underused common area. This allowed doubling the size of the master suite's walk-in closet, and expanding a child's bedroom into a small suite, complete with a new bathroom, a walk-in closet, and a bay window with built-in seats and storage. Another, existing bathroom was upgraded.
Throughout the home, work and storage zones were strategically placed and concealed with door panels and custom cabinetry to minimize clutter in the main areas.
Other improvements included replacing the front porch columns and the banister for the main stairs.
The remodeled spaces are virtually new construction with new plumbing, lighting, cabinets, appliances, and surface finishes.